High school basketball action heats up on QCSportsNet this weekend with six games, including a unique doubleheader featuring the Pleasant Valley boys and girls teams on December 3rd.
The United Township girls make their QCSportsNet debut on Thursday, December 1st as the Panthers take on rival Moline . On Friday, Western Big 6 boys action takes center stage with UT traveling to Galesburg and the Rock Island boys taking on Moline at home. Saturday, the Pleasant Valley boys team opens its season at Wharton Field House against Moline. The PV girls host Cedar Rapids Kennedy in an afternoon matchup, while Rock Island hosts Ottawa in non-conference action.
Your home for live local broadcasts all season long is QCSportsNet!

Thursday, December 1st – UT girls vs. Moline (6:15 PM pregame, 6:30 PM tipoff)
Friday, December 2nd – UT boys at Galesburg (7:15 PM pregame, 7:30 PM tipoff)

Friday, December 2nd – Rock Island boys vs. Moline (7:15 PM pregame, 7:30 PM tipoff)
Saturday, December 3rd – Rock Island boys vs. Ottawa (7:15 PM pregame, 7:30 PM tipoff)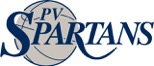 Saturday, December 3rd – PV girls vs. Cedar Rapids Kennedy (2:15 PM pregame, 2:30 PM tipoff)
Saturday, December 3rd – PV boys at Moline (6:15 PM pregame, 6:30 PM tipoff)