About Dallon Christensen
I am the founder and lead announcer for QCSportsNet. Over the last 20 years, I have a variety of announcing experience as a public address announcer, play-by-play announcer, and color analyst. My first game behind a microphone was a junior high football game during my freshman year of high school, and I ended the year as the boys' basketball announcer. In August 1993, I joined WRMJ-FM in Aledo, IL as a part-time disc jockey. In December 1993, I broadcast my first basketball game from the floor of Illinois State's Redbird Arena during the annual high school holiday tournament in Bloomington-Normal. IL.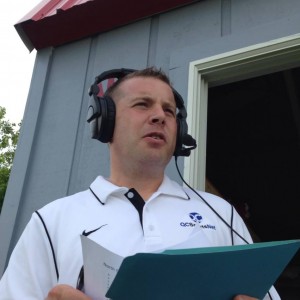 While I was in college, I continued to broadcast for WRMJ during my vacation time and also did public address announcing for University of Illinois baseball, wrestling, and gymnastics. During my senior year, I was the internal press box announcer for Fighting Illini football games. I have continued to help WRMJ on an as needed basis over the years and have never lost the desire to continue announcing games.
WRMJ started broadcasting games over the Internet in addition to their station in the mid-2000s, and I was able to listen to my brother's games even though I lived nearly three hours away. I realized the Internet would be the way to broadcast games in a convenient format for anyone around the world. During 2012, I realized the time was right to begin my own network to broadcast the games and teams local radio stations did not cover on a regular basis.
My "day job" is the Controller at Olympic Steel's facility in Bettendorf, IA. I live in Bettendorf and the Pleasant Valley school district with my wife, Stephanie, and sons, Thomas and Garrett. Thomas plays for the Pleasant Valley Wise Guys AAU basketball team, and I am the assistant coach for the Wise Guys.
About QCSportsNet
QCSportsNet brings you live Internet broadcasts, podcasts, and news about the high school and college teams in the Quad Cities area. I grew up in the area and am proud to once again call it home. One of the great things about the Quad Cities is its local high school and college teams. The rivalries in the Western Big 6 and Mississippi Athletic Conferences generate a tremendous amount of school and community pride. QCSportsNet will continue to promote and advance our local sports teams and bring you the games and stories making our sports teams great.