QCSportsNet returns for its fifth season of bringing you the best in Quad Cities high school basketball! Things heat up Thanksgiving week, as we welcome Moline Maroons basketball full time to our growing roster of teams. Moline joins Rock Island, Pleasant Valley, and United Township as the Maroons look to field an exciting team after their surprise playoff run last winter.
Thanksgiving week brings holiday tournament basketball, and QCSportsNet will be live across the state following Moline, UT, and Rock Island basketball. Full schedules are below. After Thanksgiving, Pleasant Valley will begin its season with high hopes for both the boys' and girls' teams.
QCSportsNet is your home all season long for the best in live, local high school basketball broadcasts!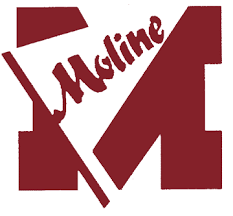 Tuesday, November 21st – Moline girls vs. Quincy, pregame 6:10 PM/tip-off 6:30 PM
Friday, November 24th games

Moline boys vs. Peoria Notre Dame at Galesburg, pregame 9:40 AM/tip-off 10 AM
Moline boys vs. Rantoul at Wharton Field House, pregame 6:40 PM/tip-off 7 PM

Saturday, November 25th games

Moline boys vs. TBA at Galesburg, pregame 11:10 AM/tip-off 11:30 AM
Moline boys vs. Springfield Sacred Heart-Griffin at Galesburg, pregame 4:40 PM/tip-off 5 PM

Tuesday, November 21st – Rock Island girls vs. Galesburg, pregame 6:10 PM/tip-off 6:30 PM
Wednesday, November 22nd – Rock Island boys vs. Sterling, pregame 6:40 PM/tip-off 7 PM
Friday, November 24th – Rock Island boys vs. St. Charles North, pregame 7:10 PM/tip-off 7:30 PM
Saturday, November 25th games

Rock Island boys vs. Minooka – pregame 12:40 PM/tip-off 1 PM
Rock Island girls vs. Rock Falls – pregame 4:10 PM/tip-off 4:30 PM
Rock Island boys vs. Chicago Bogan – pregame 7:10 PM/tip-off 7:30 PM