SCHEDULE UPDATE – PLEASE NOTE THAT THE JANUARY 26TH ROCK ISLAND-GALESBURG GAME HAS BEEN POSTPONED UNTIL FEBRUARY 13TH BECAUSE OF AN UNEXPECTED DEATH INVOLVING A PARTICIPANT IN THE GAME. ALL OF US AT QCSPORTSNET EXTEND OUR DEEPEST CONDOLENCES TO THE FAMILY AND EVERYONE IMPACTED.
Please see our updated QCSportsNet schedule for this weekend's coverage. There are three items that have changed from our broadcast listing on Monday.
Friday's Moline broadcast at Quincy will start around 6:40 PM with tipoff scheduled for 7 PM
Friday's Pleasant Valley game against North Scott is a PV home game. Pregame is set for 7:10 PM
Saturday's Rock Island game is against Alton at the Galesburg Shootout. Pregame is still 6:10 with a scheduled 6:30 PM tipoff
Join QCSportsNet all season long for great high school basketball coverage!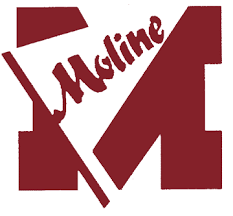 Thursday, January 25th – Moline girls at United Township, pregame 6:10 PM/tipoff 6:30 PM
Friday, January 26th – Moline boys at Quincy, pregame 6:40 PM/tipoff 7:00 PM
Saturday, January 27th – Moline boys at Rantoul, pregame 6:10/tipoff 6:30 PM

Friday, January 26th – Pleasant Valley boys vs North Scott, pregame 7:10 PM/tipoff 7:30 PM

Friday, January 26th – Rock Island boys at Galesburg, pregame 7:10 PM/tipoff 7:30 PM GAME POSTPONED UNTIL FEBRUARY 13TH
Saturday, January 27thth – Rock Island boys vs Alton at Galesburg Shootout, pregame 6:10 PM/tipoff 6:30 PM

Thursday, January 25th – United Township girls vs Moline, pregame 6:10 PM/tipoff 6:30 PM
Friday, January 26th – United Township boys vs Rock Island Alleman, pregame 7:10 PM/tipoff 7:30 PM
Saturday, January 27th – United Township boys vs Peoria Richwoods at Peoria Shootout, pregame 2:10 PM/tipoff 2:30 PM